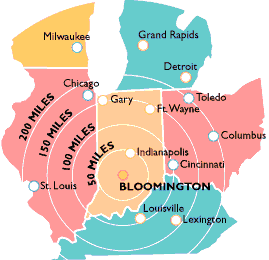 Can You Get Here
from There?
YES!
Bloomington & adjacent Brown County, are located within a day's drive for more than halfof the U.S. population. Located only an hour south of Indianapolis this great vacationarea is served by several state roads including Highways 37, 135 & 46.

So it's easy to get to Bloomington, Nashville, Lake Monroe,Yellowwood Forest & Brown County State Park.

We're just a tank of gas away!